Garden City Fire Department and Ambulance Service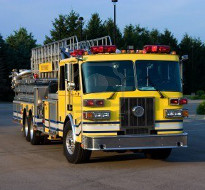 A. Organization: The Garden City Fire Protection District and Ambulance Service is a combination fire protection district serving an area of approximately 4,800 residents in a ninety (90) square mile area on the northwest edge of Missouri in Cass County. Our service area also includes the corporate city limits of the city of Garden City which makes up approximately 2,000 residents of the population we serve. We provide ambulance and fire services to this area. Our operating budget for the fire protection district is approximately $72,000 dollars annually. Over the past five years, our area has grown expeditiously, with people moving from all over the country to take advantage of the rural life and the easy access to the Ozarks hills and lakes. Our service area is a main thoroughfare for copious amounts of traffic that is headed to the Lake of the Ozarks. Our service is made up of volunteers and part-time paid staffing. We have twenty volunteers and ten paid employees. Our service responds to approximately five-hundred calls annually.
B. Mission Statement: The Garden City Fire Protection District and Ambulance Service will continue to honor the legacy of the fire and ambulance service by striving to be recognized by our community and peers as a role model of excellence in providing service and leadership. It is our vision to properly and efficiently utilize all of the resources that we have available to us as we provide the highest quality of service to the patrons of the districts that we serve. It is our goal to not just meet the expectations of this district, but to exceed the expectations set forth by the citizens of this district.
C. Community Insurance Rating: Garden City currently has a fire rating of seven; this rating is issued by ISO. The rating that the city is currently operating under was given in February of 1992. The district requested a new evaluation and completed that evaluation in September of 2010 and should be receiving a new rating that will be a great benefit to the residents of Garden City and will be a cost saving measure through the amount citizens pay for insurance premiums.
D. Adequately Trained Personnel: Garden City Fire Protection District and Ambulance Service promotes a learning environment for all personnel. The training level that our personnel has generally exceeds that found in departments of similar size due to the fact that a large majority of our personnel is employed by larger services on their days they are not at Garden City. As a result, our personnel receive extensive training which could not otherwise be provided under our current budget.
E. Public Education Programs: The Garden City Fire Protection District and Ambulance District serves two different schools and provides an extensive fire prevention program. The district also provides training in CPR and first-aid to a wide variety of businesses and citizens.
Orgranizational Goals and Objectives for FY 2011 - 2013
The following goals and objectives have been developed by the chief and the officers of the Garden City Fire Protection District and Ambulance Service. These goals and objectives are developed to be strategically addressed and reviewed for the next twelve to twenty-four months:
Develop a plan to provide adequate staffing levels over the next five years. This plan will research utilizing full-time, part-time, and volunteer personnel.
Develop a plan to increase the overall income and revenue for the general operating fund. The current tax levy is not sufficient to support all the levels of operations that are necessary for the fire and ambulance service to be effective. This will need to be a long-term adjustment as we foresee growth and increased service demands.
Develop a strategy to improve our internal relations which include developing positive attitudes and reducing conflict. This goal will improve our interpersonal dynamics and better define the values of the organization.
Develop a tool to improve our level of community relations. This plan will include public education, public relations, and make the district's operations transparent in a way so that the community understands and can see the benefits that they receive by financing the fire district.
Develop a comprehensive fleet replacement plan that will insure the adequate and timely replacement of vehicles and equipment. With 50% percent of the fleet being over 15 years old, the district needs to have a plan in place to replace outdated and unsafe equipment without placing unnecessary stress and restriction on the operating budget.
Create a process to improve county-wide communications and operations. Through this objective, we will help identify deficiencies and redundancies in the current operations and develop S.O.G.'s with the cooperation of other Cass County agencies.