Garden City Medical Clinic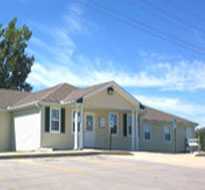 Our Mission: Cass Regional Medical Center, a publicly owned healthcare organization, is committed to serving the communities of Cass County and the surrounding region with compassionate, customer-focused, and professional health-care services.
Our Vision: For every life we touch, Cass Regional Medical Center will be known for the passion of our people towards service excellence and our commitment to promoting wellness and expanding healthcare services for the communities we serve.
Contact Information:
101 B Old 7 Highway P.O. Box 469
Garden City, MO 64747
(816) 773-6203
Office Hours:
Monday, Wednesday, Friday 8:00am – 5:00pm
Tuesday & Thursday 8:00am – 7:00pm
Patients are seen on an appointment basis.
Meet Our Staff:
Karmen Goosey, RN, MSN, FNP-BC
Devoe Smith Free Healthcare Clinic
Contact Information:
82. South State Route F
Garden City, MO 64747
(816) 680-2252
Office Hours:
Tuesday – Friday 9:30am – 2:30pm
Saturday – Appointment only
Sunday - Closed